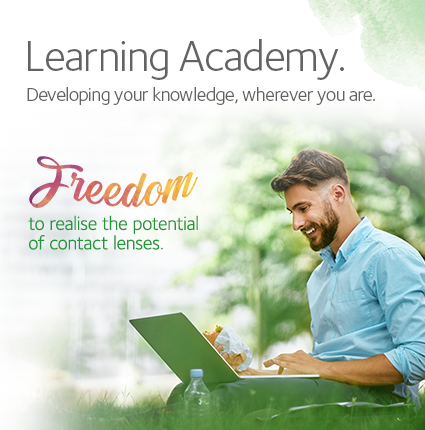 Thank you for registering a personal training account with the CooperVision Learning Academy.

At CooperVision, we attach great importance to offering innovative contact lenses so that your customers can see better every day. We want to support your success as a contact lens specialist by offering you and your colleagues relevant training that you can access at any time.

The training courses that you will find here are aimed at developing communication, clinical and technical skills. Keeping up-to-date with these skills make a real difference in terms of the services you offer your customers. This includes topics such as the selection of the right contact lenses for your customers, communication tips, contact lens prescribing, as well as the improvement of the customer experience in business.

These courses can be accessed 24 hours a day, 7 days a week to help develop your knowledge at a time that suits you; they are free of charge and open to all those working in the optical industry (so you don't need to be a CooperVision customer). The courses are written for either clinical or front of house (retail) staff helping to inform and upskill across all areas of the contact lens business.

Training can be accessed by most devices and can be used with or without sound. Each module takes around 10 minutes to complete, allowing training to fit perfectly into anyone's busy schedule.

From time to time we will be adding new modules that reflect the latest knowledge and best practice in the contact lens industry and clinical practice.

Please take advantage of our NEW webinars programme - including CET accredited materials - for Eye Care Practitioners, business owners and support staff. New webinars will be added each week – please visit the 'Training Courses' pages for more details.

Create your own personal learning account today.

Yours faithfully,
Marcella McParland
Director of Professional Services
BSc MCOptom FAAO, FIACLE
Start learning now!
1Register now to get started - you will need your CooperVision Customer number.
2Begin your training by searching by keyword or using the content filter tabs to view the training available on a range of different topics.
3You can easily see what content you've started or completed by viewing your Training Record.
4You will receive a certificate as soon as you complete a piece of training which can also be accessed from your Training Record.